sandham memorial chapel reopening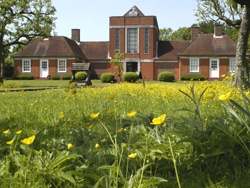 As today marks the centenary of WWI, the National Trust is holding commemorative events all over the country to pay tribute to the 17 millions soldiers and civilians who lost their lives. As part of this occasion of remembrance, Sandham Memorial Chapel in Burghclere will be opening its doors to the public once again on the 5th August. This follows months of conservation work undertaken by Daedalus Conservation.
Being involved in architectural conservation, we are often privileged to work on amazing buildings in breath-taking locations, but finding ourselves in amongst the bewildering wall paintings of soldiers' experiences during the Great War was both an uplifting and thought provoking experience.
The primary elements of the works included conservation of the three large metal windows that practically fill the West elevation of the chapel. We also carried out necessary alterations to the interior of the chapel, so that the canvas paintings within could be stored safely and securely. This was all carried out with the utmost care and without the creation of any dust or debris. Extensive precautions were taken to ensure that the chapel was adequately protected and that the correct humidity levels were maintained throughout.
Being able to work in such close proximity to a national treasure has been an honour and we can only hope to have provided the level of care and attention befitting of such a monument. The imagery will always serve as a haunting reminder of historic events. We very much look forward to the reopening and seeing the reaction of visitors over the coming months.